Roest Effect
Roest effect
Nu kreeg ik laatst het verzoek een nieuwe motor van roest effect te voorzien.
Hier bij de stappen hoe ik het gedaan heb.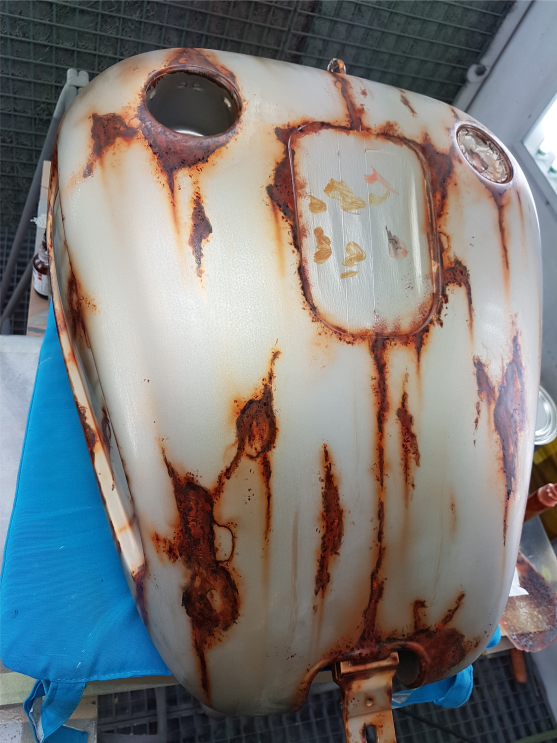 Benodigdheden
Dit zijn de materialen die ik heb gebruikt.
Een platte penseel ongeveer 5-8mm breed zachte haren, een platte penseel maat 10-20mm van varkens haar. Createx Wicked verf, House of Kolor Kandy.
Een airbrush de WoW Texture FX 2 mini.
Hoe te werk gaan
Alles wat je hiermee doet, doe dat spelende wijs tot dat je zelf tevreden bent. Dit zijn puur de richtlijn zoals ik het spelende wijs heb gedaan.
1.
Het eerst is een aantal goede roest referenties van internet halen om zo de vorm en de kleur goed te kunnen bepalen.
Print deze uit om hier af en toe op terug te kijken tijdens het decoreren.
2.
Neem de
Wicked Detail Sepia
en de platte zachte penseel en ga de de roest plekken uitzetten op het object, verdeel dit over het object heen en kijk goed naar je referenties.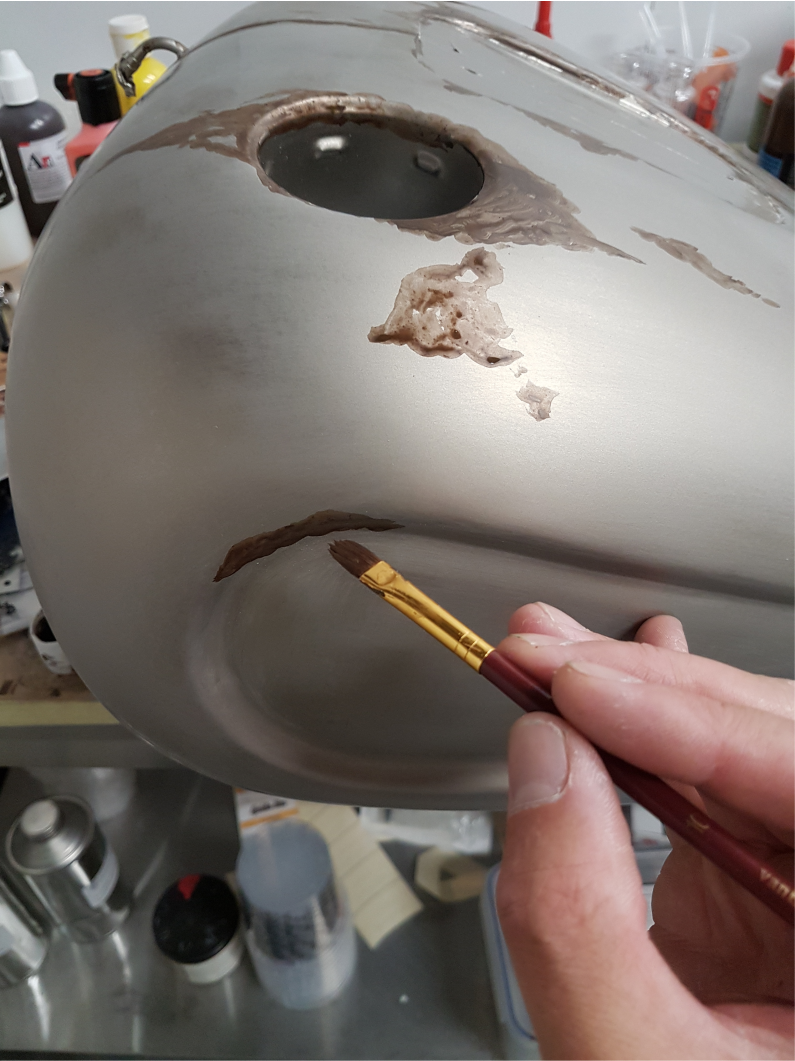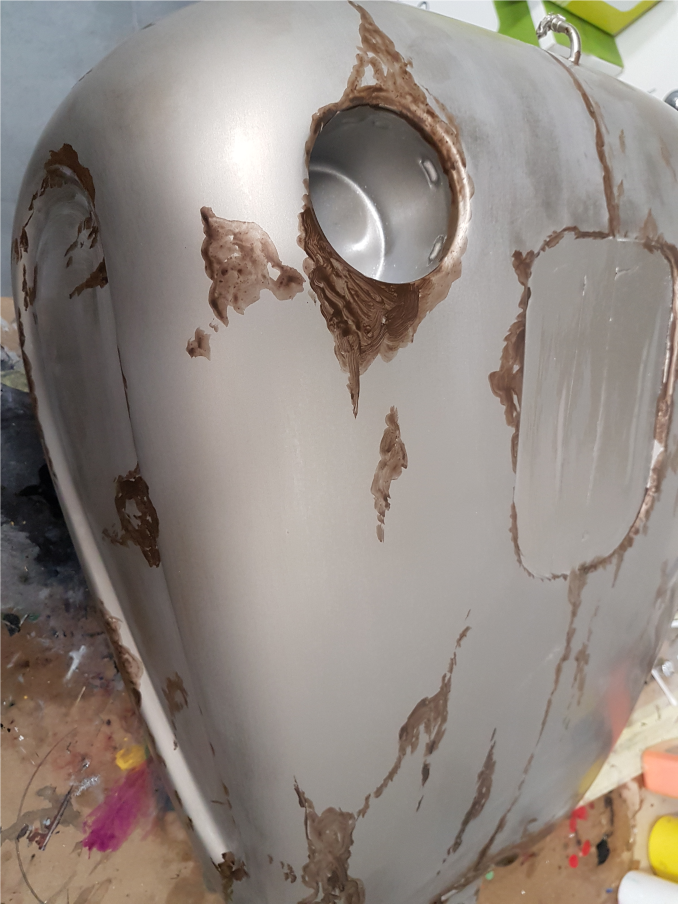 3.
Nu gaan we de varkens haren penseel gebruiken.
Nu gebruiken we een andere kleur en brengen structuur aan. De varkens haren zijn grof en stug, met een tamponneer beweging brengen we de tweede laag aan. We gebruiken de
Wicked Brown
hiervoor.
4.
Dit gaan we ook doen met de
Wicked Detail black
50% en
Wicked Detail Sepia
.
Verdun dit 30-50%, gebruik hiervoor ook de platte zachte kwast en wissel dit af.
Dit wordt de donkere partij in de roest, kijk dus wederom goed naar je referentie.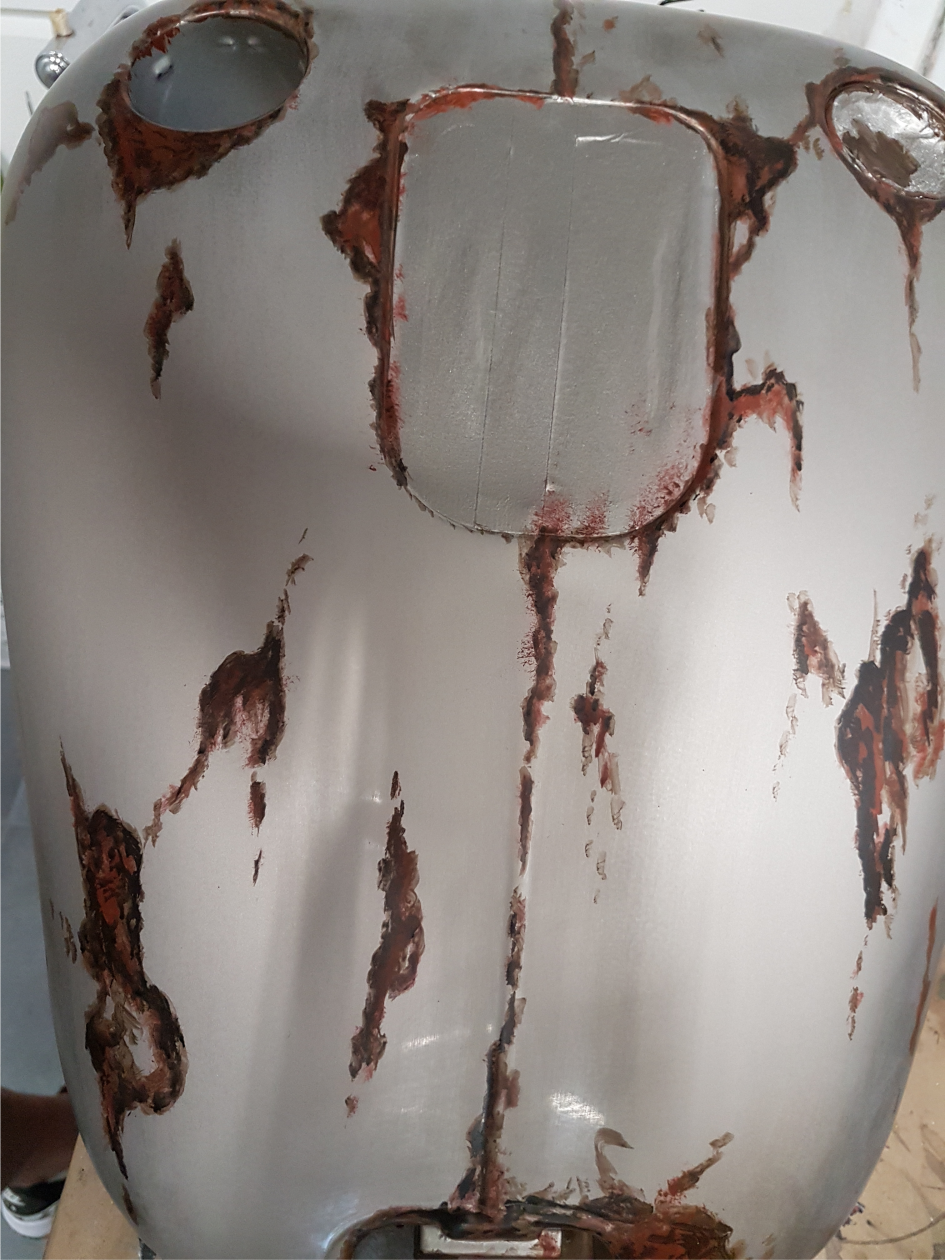 5.
Nu gaan we over het grootste gedeelte van de plekken een lichte kleur aan brengen met de
Wicked Detail Raw Sienna
, verdun deze ook weer 30-50%.
Af en toe vervuil je de kleur een beetje met de Wicked Brown om zo wat afwisseling in de kleur te krijgen.
Gebruik hiervoor ook de varkens haar penseel en de platte zachte penseel.
6
.
Wicked Orange
gebruik je om hier en daar een paar oranje stipjes te zetten doe dit heel beperkt met de varkens haar penseel.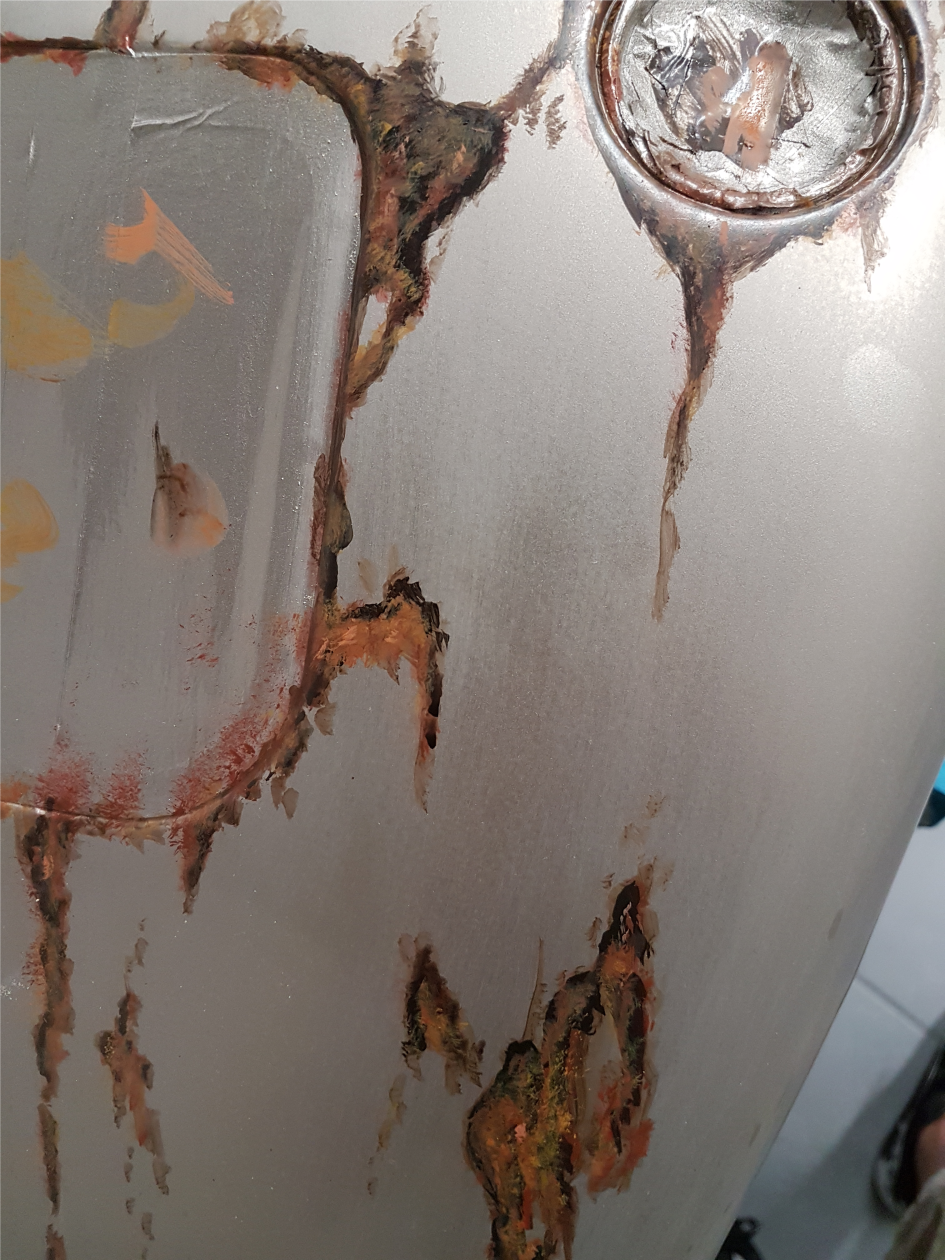 7.
Nu is het tijd om de roest tot leven te brengen dat doe we met de airbrush ik heb hiervoor de
Olympos
HP-100B gebruikt pak hiervoor een 0.2 of een 0.3 mm airbrush voor.
Ik heb hiervoor de House of Kolor Kandy
Tangerine
en
Root beer
voor gebruikt meng de Tangerine met ongeveer 20-30% en de Root beer daarbij. Verdun dit naar wens.
Nu gaan we over de roest plekken deze kandy zetten doe dit weer spelende wijs, soms wat meer en soms wat minder soms freehand soms met stencil.
Ga ook over de buiten randen van je roest gebruik nu ook de
WoW Texture FX2 mini
stencil om zo nog meer texture aan het roest te geven. Doe het af en toe in de roest maar voornamelijk aan de buiten randen van de roest. Ook doe je dit hier en daar op plekken waar je geen roest hebt aan gebracht en nevel ligt daar ook omheen zo creëer je vlieg roest.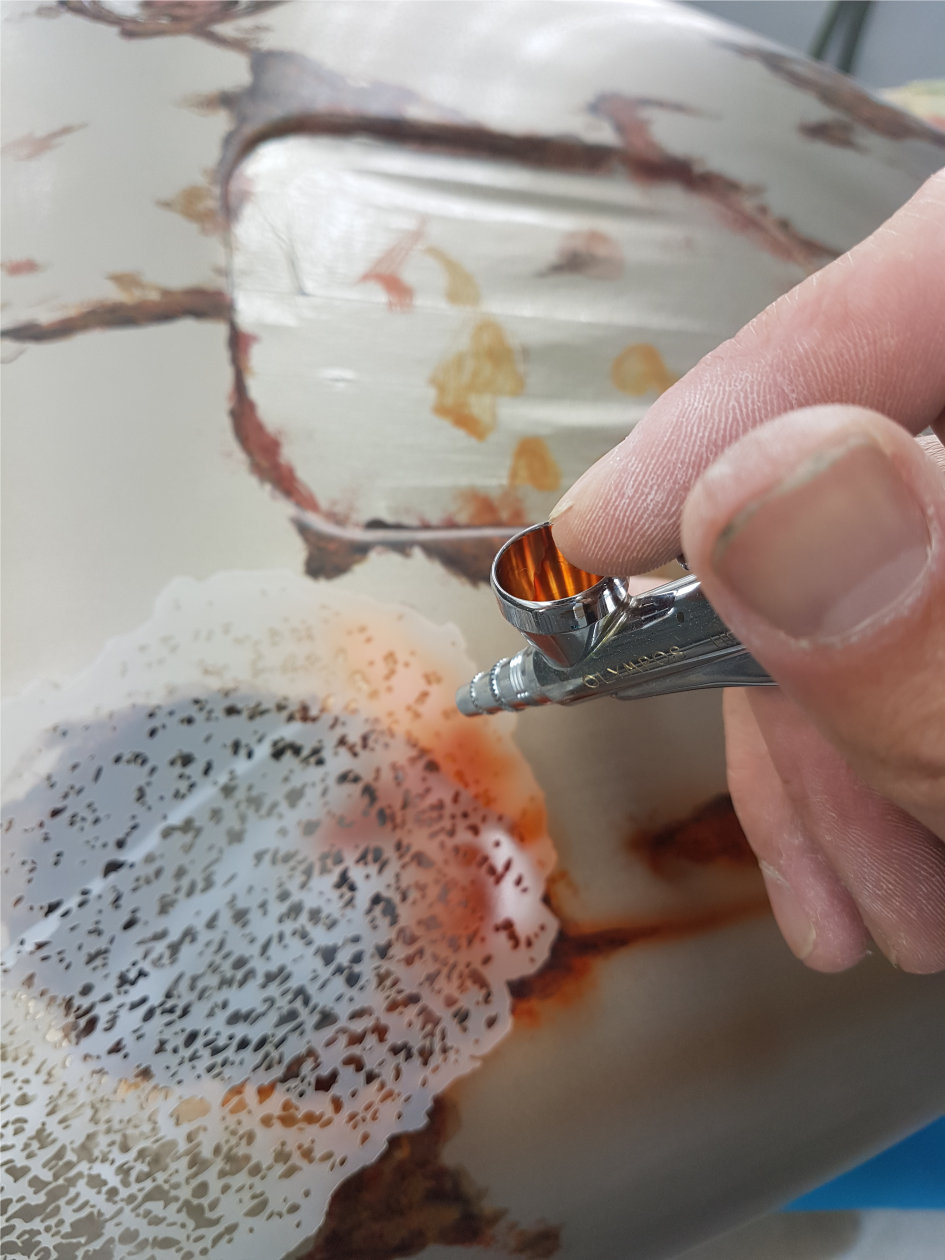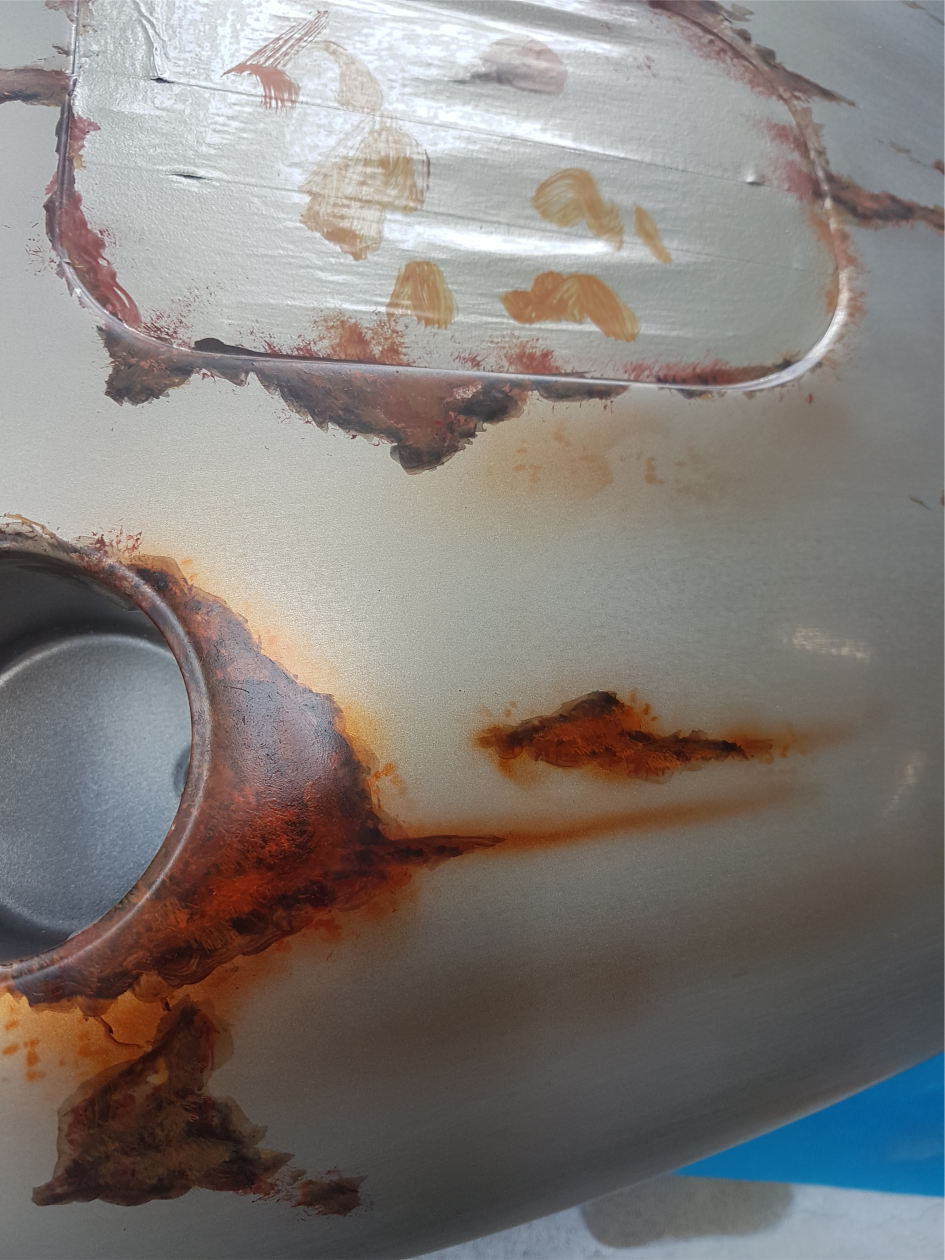 8.
Dit gaan we nu ook doen met de
Root beer kandy
, nu gebruiken we weer het stencil ook weer over de roest plekken heen. Aan de buiten randen doen we het ook alleen dan beperkt binnen de Oranje kandy. Wissel dit ook af met freehand.
Doe dit hier en daar ook weer bij de plekken waar je de vlieg roest heb gemaakt gebruik hier dan enkel de kleine texture FX puntjes van het stencil. Zo krijg je hier en daar donkere puntje.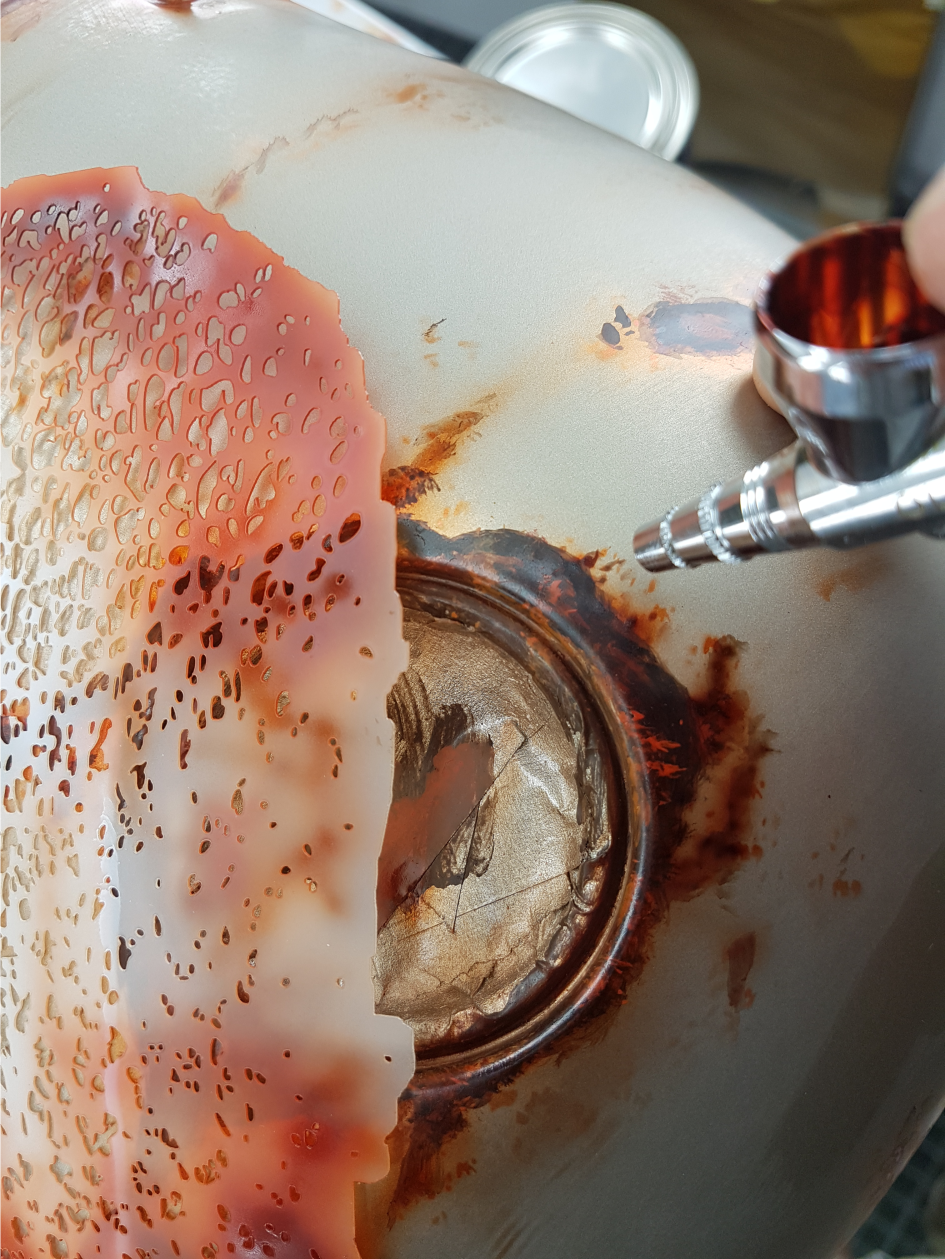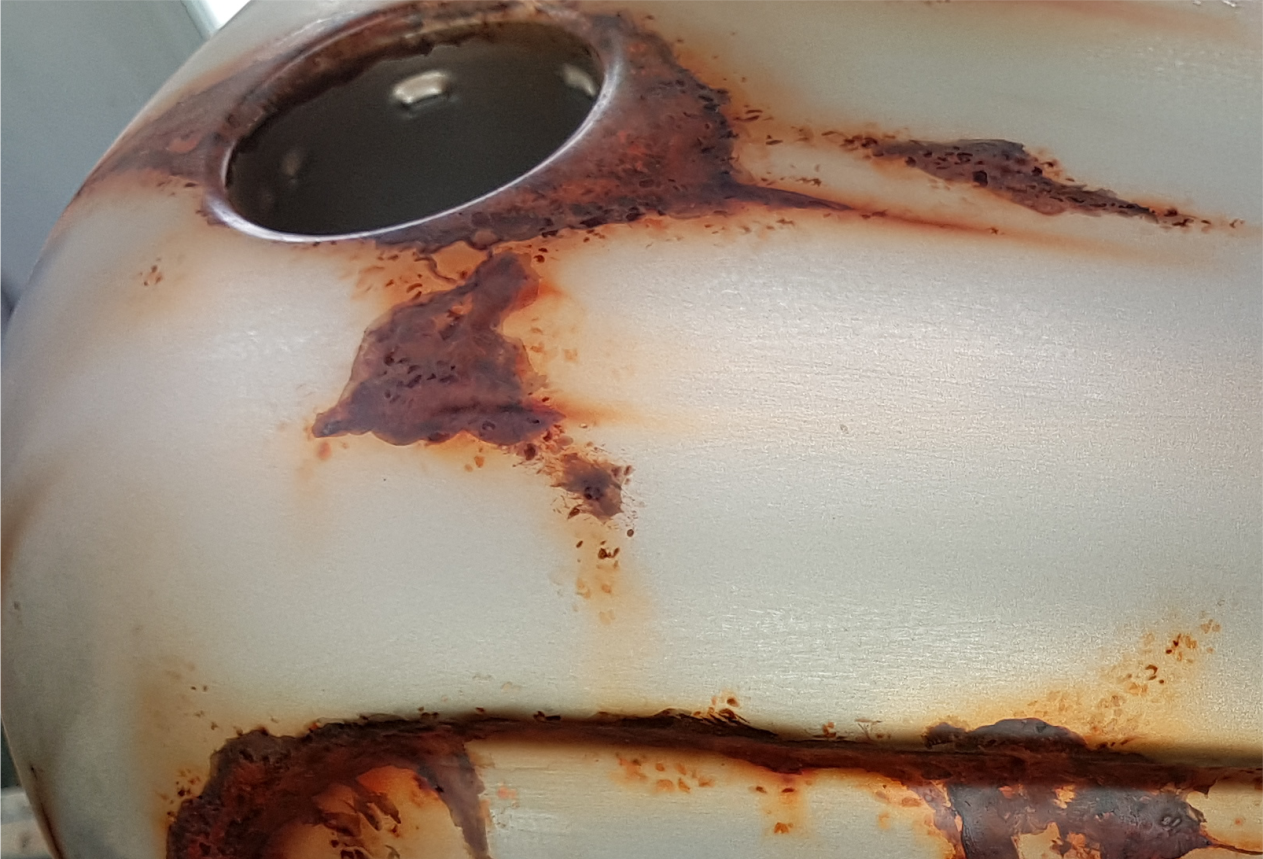 ---
Dit is de manier zo al ik dit project heb gemaakt en zo kan je het min of meer ook doen om dit roest effect te creëren.
Ik hoop dat jullie iets aan deze step by step hebben gehad.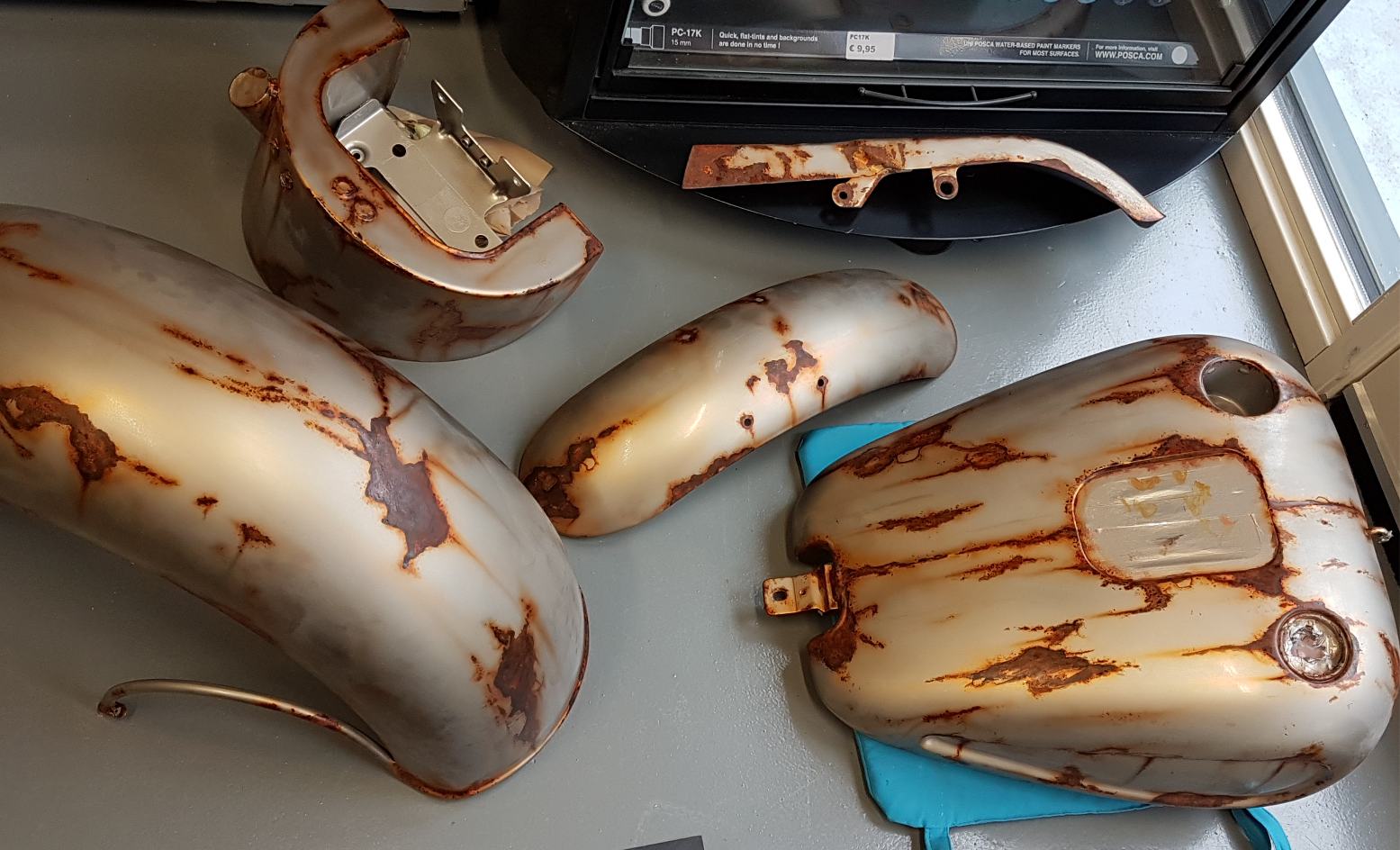 Ferry
- 13-05-2018
Handig! meteen de missende kleurtjes er voor besteld ;)
Nico Benjamins
- 28-11-2017
Moet een heel dakspant doen, dus je werkwijze is heel interessant. Bedankt man :-)
Danny Croughs
- 18-07-2017
Echt vet gedaan man, heel duidelijk en goede uitleg! Dank om te delen, top !!
misteryfotografie (albert)
- 16-07-2017
heel knap uitgelegd Lion ,aan deze step by step handleiding heb je heel veel aan ,en tof dat je de foto's erbij zet
Paul
- 16-07-2017
duidelijk en goed dank je.
Herman
- 16-07-2017
Goeie uiteenzetting...Top!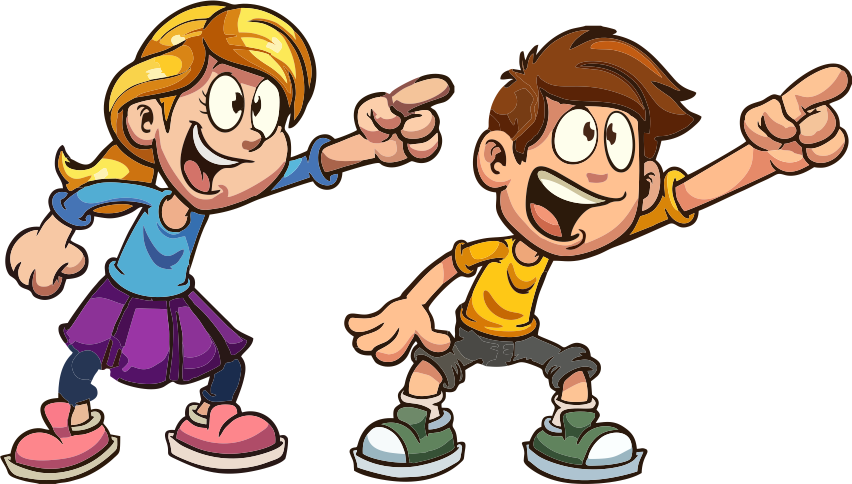 Contact
Smithweg 1.23 4462HC Goes
0113-785147 / 06-54797785
info@Lion-Art.nl