Nieuwe Createx producten
Grootste Airbrush Verf fabrikant
Createx is de grootste en meest bekende Airbrush verf fabrikant van de wereld.
Ze hebben regelmatig nieuwe producten en deze worden beter en beter.
Wat is nieuw
De illustration colors zijn nu al een tijd uit maar dit zijn allemaal transparanten kleuren, nu zijn er 11 opaque kleuren bij gekomen.
Deze kleuren zijn zwaarder gepigmenteerd en drogen mat op.
De Createx illustration kleuren kunnen worden verwerkt zonder verdunner. Zij kunnen worden gespoten direct uit de fles bij een lage druk door de kleinste nozzles. In tegenstelling tot Wicked Kleuren,Wicked Detail Kleuren en Auto Air kleuren, die ook met een spuitpistool gespoten kunnen worden, zijn de illustration kleuren ontwikkeld voor gebruik met airbrushes.
Verdunnen kan met de 4012 of de 4020 reducer en de Createx Illustratie Transparent Base (een dunnere verf zonder pigment) kan men de verf transparanter maken.
De juiste partner
De juiste partner, nadat de verf is gespoten, kan het gemakkelijk worden gewist of verwijderd met behulp van een gum of mes.
De verf wordt langzaam veerkrachtiger en sterker.
Bij gebruik van een blanke lak, raden wij u aan gebruik maken van een urethane blanke lak (2K).
De verven werken heel goed met de Candy2O van Createx.
Zowel als losse verf als in set verkrijgbaar.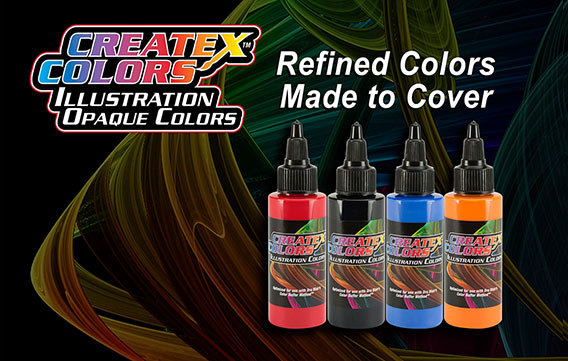 Illustration Lifeline colors
Wat is nog meer nieuw, de Lifeline colors een aanvulling op de illustration Bloodline kleuren.
Deze kleuren van Tim Gore zijn een mooie 15 huidskleur tinten.
Om zo mooie realistische huidskleuren opbouw te maken.
Zowel als losse kleur als in set leverbaar.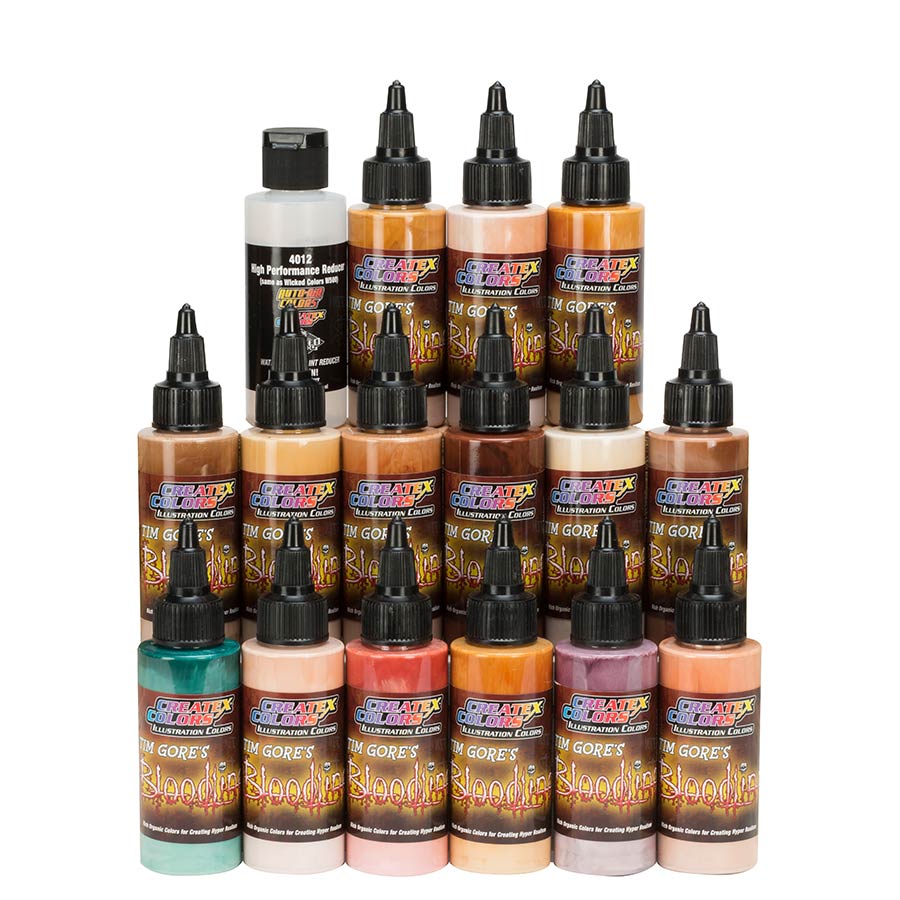 Sterker maken
De kleuren zijn los en ook als set leverbaar.
De verf is een bekende illustration verf ontwikkeld mede door Dru Blair, de verf is uit stekend voor illustratie airbrush werk de verf is ook gemakkelijkte bewerken met gum en kras gereedschap.
De verf is ook goed te gebruiken voor harde ondergronden door dan gebruik te maken van de mediums.
Met de Createx 4030 Balancing Clear kan je 10-25% aan de illustration verf toevoegen om deze sterker te maken en er voor te zorgen dat het een goede hechting heeft.
Ook laat het de verf sneller drogen.
De 4020 Automotive reducer maakt de verf harder waardoor deze minder goed te gummen is.
Ook kan deze goed gecombineerd worden met de 4012 standaard reducer om zo de goede belance te vinden voor geschikte verdunning.
Alleen met 4012 is deze makkelijk te gummen, voeg je hier de 4020 aan toe dan wordt het moeilijke te gummen. begin met 3:1 3 delen 4012 1 deel 4020.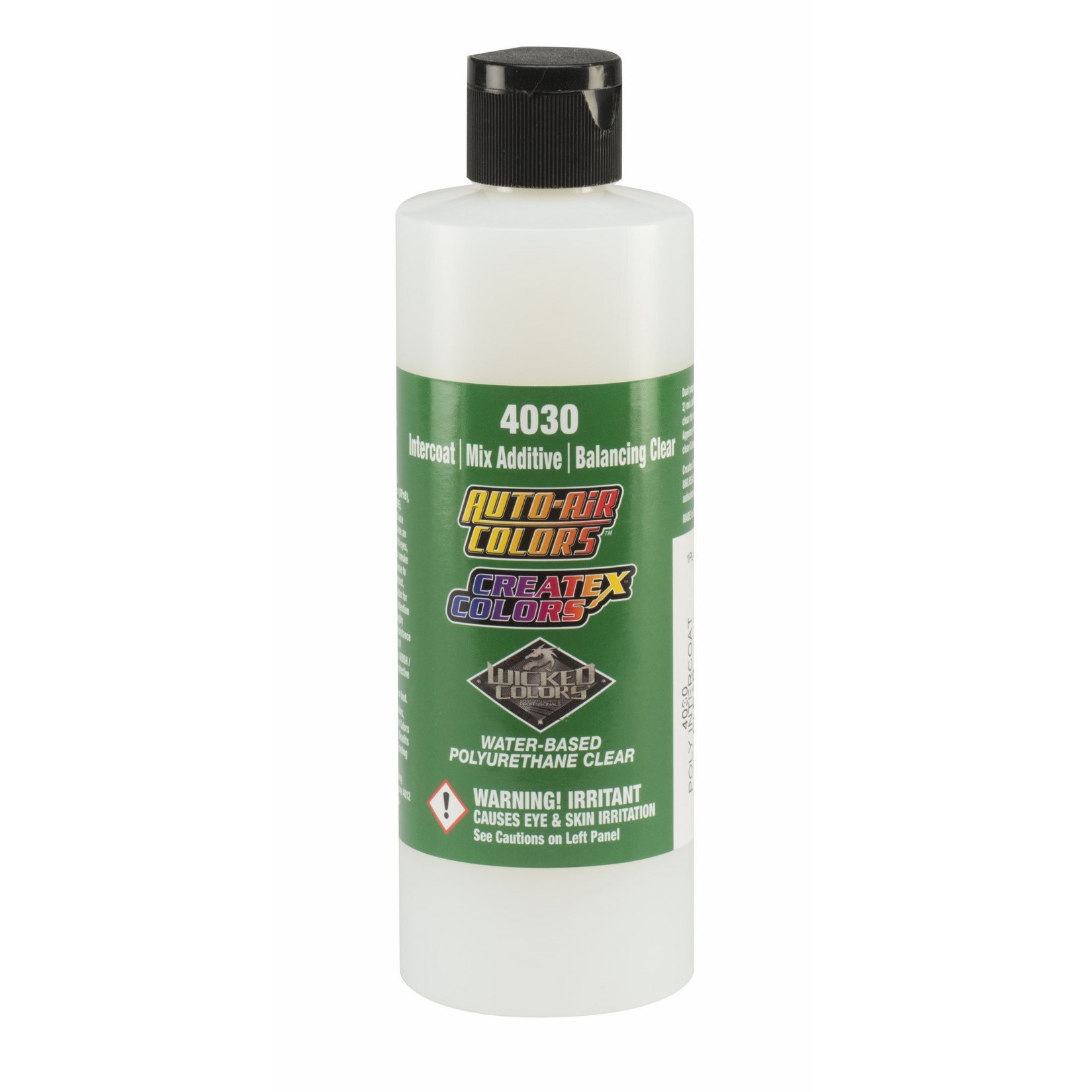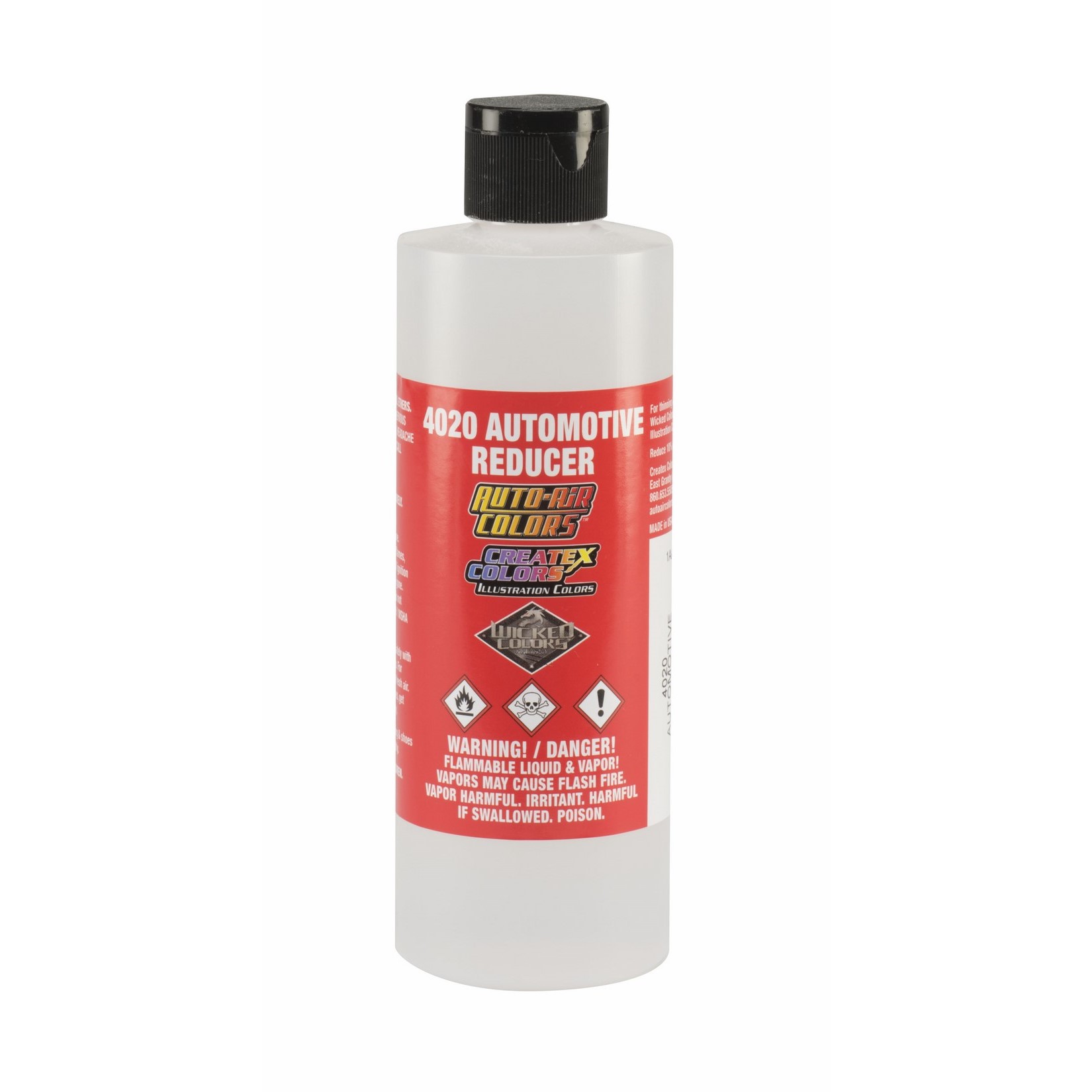 Gerald Mendez Art Studio Color Set
Dit set is samen gesteld door Gerald Mendez die bekend staat om zijn verfijnde technieken en het gebruiken van briljanten kleuren.
Tevens is hij ook de ontwerper van de Texture FX stencils.
Bij dit set wordt ook de Texture FX II mini geleverd.
Het set bestaat uit Candy2O kleuren en Illustration kleuren 4020 en 4012 verdunner en de 4030 Balancing Clear, 12 twist en turn caps. How-to brochure. Aztec Mask Line Drawing.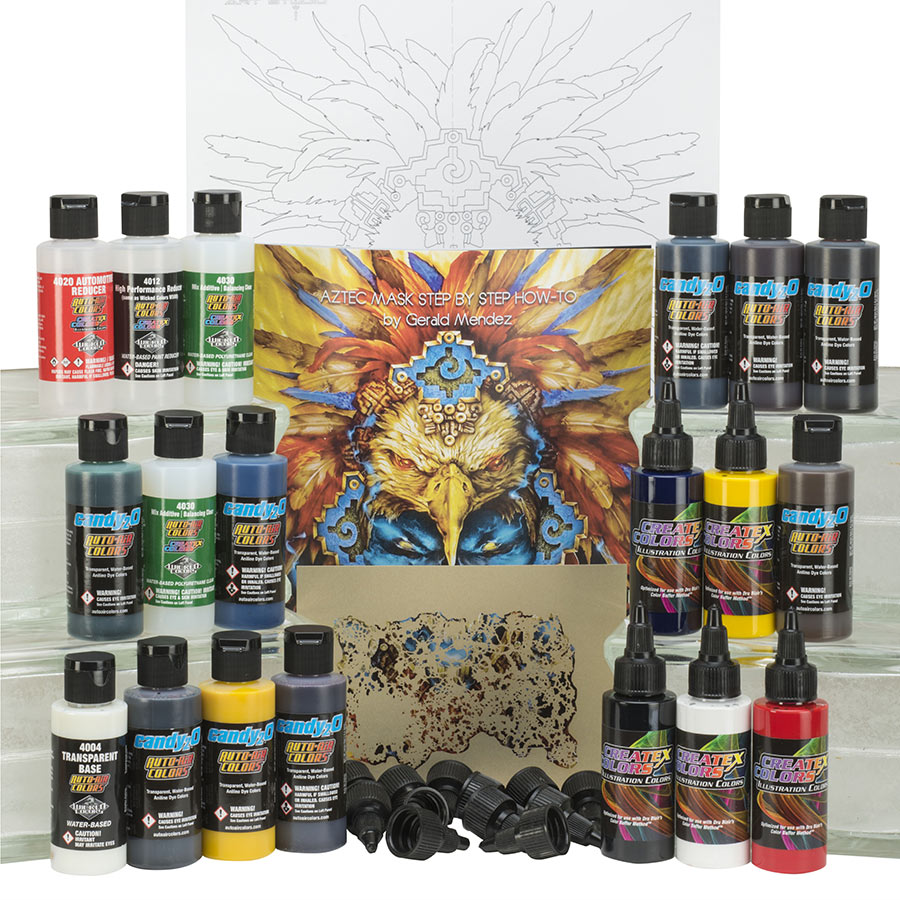 Flesh tone
Er is ook nog een nieuwe kleur bij de Wicked Detail gekomen.
De Cory Saint Clair's Universal Fleshtone, een mooie kant en klare huidskleur tint.
Maak zo je Wicked collectie compleet met deze Skin tone.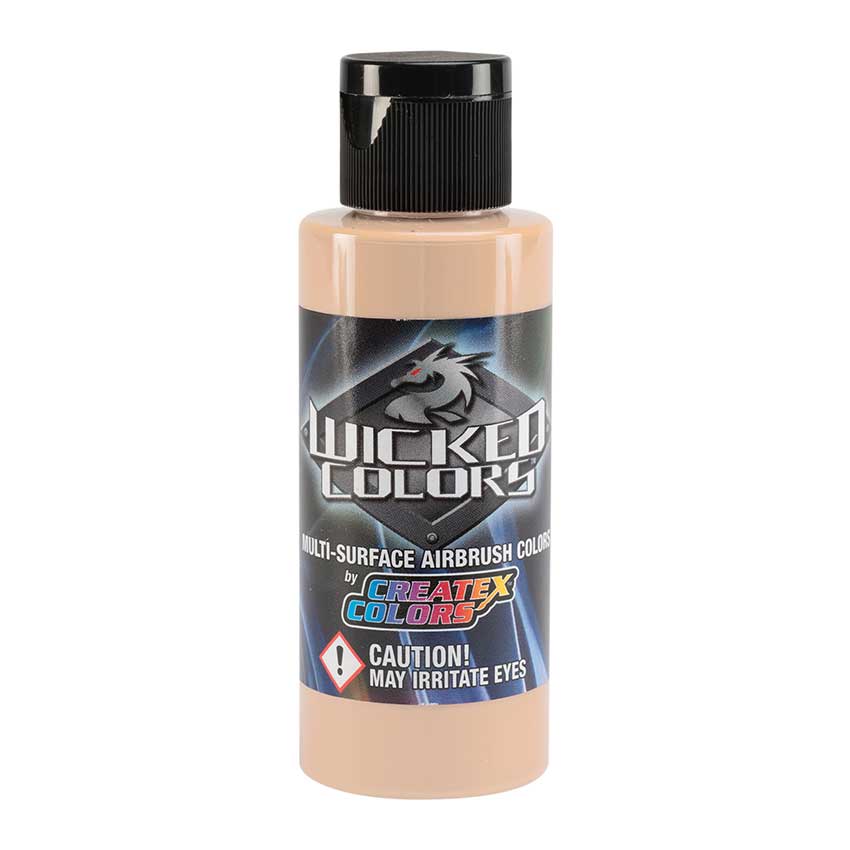 Lion
- 07-06-2017
Ik heb deze nieuwe opaque nog niet getest, maar me voorkeur gaat wel uit naar de Illustration lijn voor waterbasis. Gebruik ook graag Etac maar de Illustration heeft meer keuzen uit kleuren.
Paul Lamers
- 07-06-2017
Top, maar welke opaque op waterbasis heeft jou voorkeur en waarom.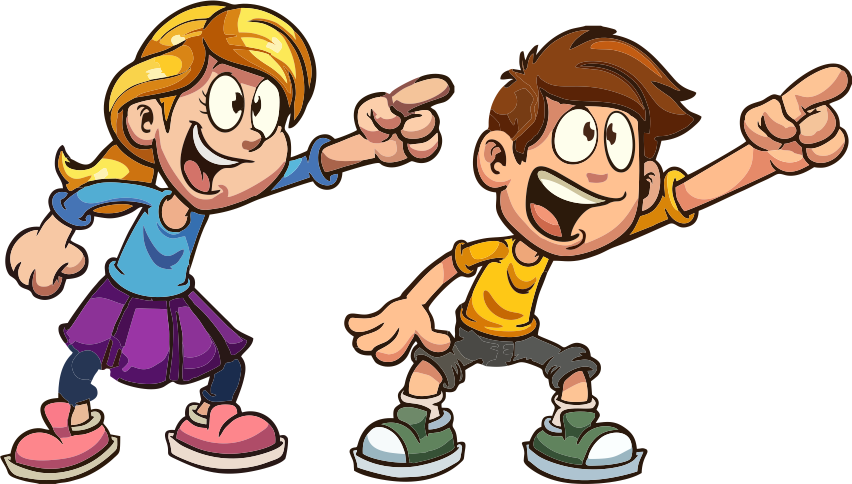 Contact
Smithweg 1.23 4462HC Goes
0113-785147 / 06-54797785
info@Lion-Art.nl